because you deserve a reliable supply
The number of medicine shortages has increased over the years and is one of the biggest concerns of independent pharmacists in their daily work.
According to a survey of the German pharmacy association ABDA on October 2019 the majority of pharmacists are using more than 10% of their working time searching for solutions for their patients.
Despite all the effort an optimised medicine supply is often not possible.
kjur is connecting the stakeholders in pharma supply in an innovative and intelligent way
Whereby the security of supply for patients is increasing, the amount of work for pharmacists is getting reduced at the same time.
With an improved supply situation and patients' satisfied, pharmacies are getting a competitive advantage. New free time capacity can be used for additional income sources and consultancy, improving the economic viability of the pharmacy.
How does kjur work?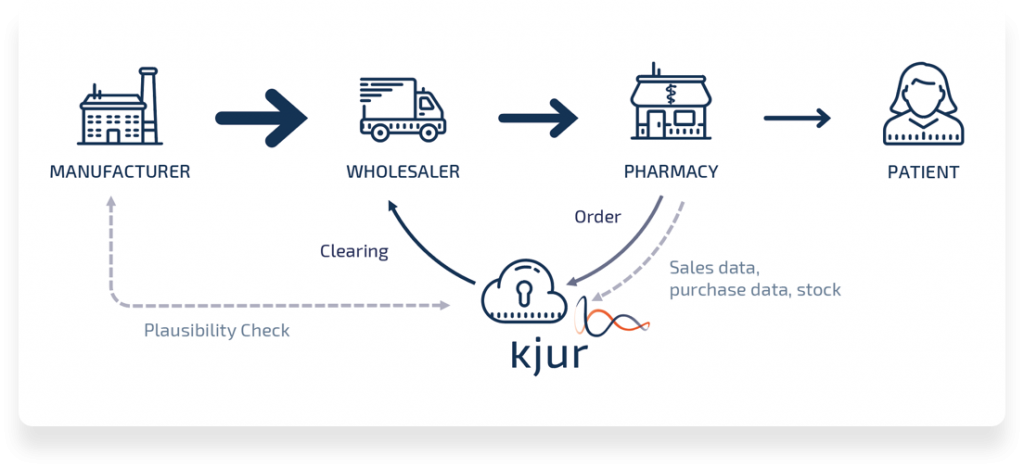 When a medicine is ordered, kjur verifies the demand of the pharmacy using artificial intelligence: Therefore, the data of the pharmacy cash system is transferred to the platform using the standardised ADAS-interface. After the clearing by kjur, the order is transferred directly to the participating wholesaler which is delivering the verified order immediately.
Securing the demand-based supply
Increased availability of quota medicines
Easy handling- no change of operating procedure
Release of time and resources -> More time for consultation, increased turnover potential
Higher customer satisfaction
-> improved customer loyalty
Competitive advantage, strengthening of the local pharmacy
Faster delivery via wholesale
Invoice from wholesaler, no additional requirements
Rebates (according to wholesale conditions)
No sharing of pharmacy data
kjur is independent and transparent with no conflict of interest
Security
kjur is an independent platform which matches the supply and demand of limited available medicines. We have the highest standards regarding organisational and technical measures to protect the pharmacy data. No pharmacy information is shared with wholesalers, manufacturers or other third parties. The pharmacy retains full data control. Of course, kjur is 100% GDPR conform.