because you deserve a reliable supply
The number of supply chain disruptions has been increasing continuously for years and is a major problem for you and your pharmacy when it comes to reliably take care of your patients.
But there is more to it: The time-consuming research for available drugs or reasonable alternatives costs valuable time – and is still often unsuccessful.
Our digital platform kjur neatly links all stakeholders of the pharmaceutical supply chain and supports participating pharmacies simply and efficiently in supplying their customers' needs.
How does kjur help me in my pharmacy?
Better availability and demand-based distribution of (quota) drugs.
Easy to use in your pharmacy thanks to the integration in your usual cash desk system – with a fast delivery via our wholesale partners.
Saves your time – using kjur ensures you´ll have more time for the customer service and additional sales opportunities, it improves customer loyalty and helps to attract new customer groups.
How does kjur work in my pharmacy?
Kjur is activated right in the cash desk system of your pharmacy with no additional installation required. To make supply management easier, with kjur you can check the availability of medicines and proceed to order those needed at any time. These items will be supplied, as usual, by the participating wholesaler. Which will also issue the delivery note and invoice.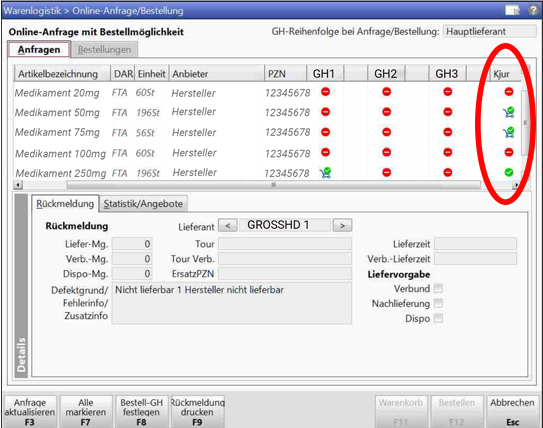 "Kjur is very easy to integrate into the pharmacy processes!"

– Pharmacist Sigrid Hering, owner of the Markt-Apotheke Neustadt
"Supply chain bottlenecks are a big problem in the pharmacy. With kjur, I get a better grip on this with more and more products and don't even have to change the familiar dispensing processes in my pharmacy."

– Pharmacist Michael Fey, board member MVDA, owner of the LINDA-Rosen Apotheke Bad Kreuznach
"Kjur helps me with supply chain bottlenecks, and the best thing is the seamless integration into my inventory management system in my pharmacy. It's very user-friendly and saves valuable time for the whole team."

– Pharmacist Dr Steffen Hauth, owner of the Apotheke Am Markt Philippsburg
Ensuring demand-based supply
Better availability of quota-bound drugs
Simplification of operations – no change in the operational process
Frees up valuable time resources = more time for consultation and additional sales potential
Higher customer satisfaction = stronger customer loyalty
Competitive advantage, strengthening of the community pharmacy
Fast delivery via wholesalers
Invoice from wholesalers, no extra invoice
Discounts (according to wholesale conditions)
Pharmacy data will not be passed on
kjur is independent, secure and transparent